Orlando's Finest Pressure Washing Company
When you need a pressure washing contractor for your Orlando home that offers a wide variety of services to get the job done, you can find no better than iShine Pressure Washing LLC. Our team is dedicated to providing you with the best service you can find from start to finish. Utilizing only the best cleaning methods, coupled with the finest equipment, iShine Pressure Washing LLC gives you the results you need time and time again. Whether your job is big or small, you'll find that we have just the service to meet the needs of you and your family all throughout the year.
Our commitment to providing the best pressure washing care extends to every service we provide, whether you need house washing or paver cleaning. There isn't a job we won't tackle because we know that we are the best that Orlando offers. Peruse our services and find the one that's right for you, trusting that each one will be carried out to the highest standard that makes us the most trusted pressure washing company in the areas we serve. Contact us today, and let us show you what we're made of.
---
House Washing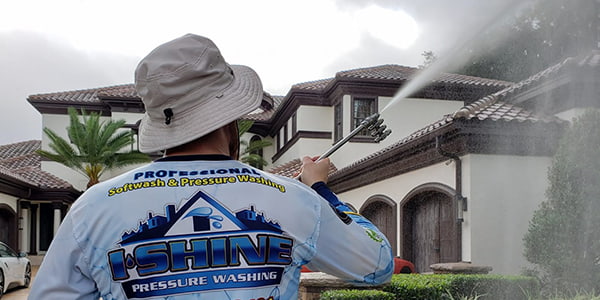 To make the exterior of your home look like new, you need house washing from iShine Pressure Washing LLC, proudly serving the Orlando area. When it comes to pressure washing, we're the best in the biz - a company you can trust to give you excellent results every time. If you have noticed that your home's siding isn't quite up to snuff, we're happy to take a look and tackle the project to help you fall in love with your home again. Contact us today for a quote and see what we can do for your home.
Your Home Will Look Better In An Instant With Exterior Home Surface Cleaning
Has the exterior of your home begun to look streaky and discolored? You may have thought it needed a new coat of paint, but more likely than not, your paint is fine, and it's what's on top of it that's causing the way it looks. Pollen, mildew, mold, and algae can give the appearance of a lackluster paint job when in reality, all it takes is removing it to show the beautiful color underneath. With house washing from iShine Pressure Washing LLC, any material clinging to your siding can be a thing of the past.
Using expert equipment and technique, our team will effectively eradicate the nuisance of a dirty home in a snap. We only use the best methods when treating your house to ensure that no harm comes to the surfaces we clean. Not every company can say that. We are content until you're satisfied with the way your home looks.
Our Exterior Home Cleaning Can Instantly Improve Your Residence's Visual Appeal
It's amazing what a house washing can do to boost the curb appeal of your home. While you may not realize how much grime your home has accumulated over time, we can guarantee it's more than you think. Wouldn't it be nice to wipe it all clean and start with a fresh slate when it comes to the appearance of your home? Well, with iShine Pressure Washing LLC's house washing, it's as easy as 1-2-3. To reflect the beauty of your home on the rest of your property, consider our fence cleaning service, as we can restore your wooden surfaces to their former glory too. Contact us today, and let us get to work serving you and your family.
---
Deck & Fence Cleaning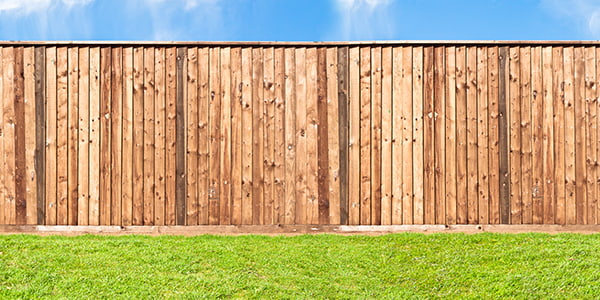 Orlando area residents trust iShine Pressure Washing LLC for all of their deck and fence cleaning needs. Our team has no shortage of pressure washing knowledge and is the best choice when it comes to treating your wooden surfaces to the clean of their lifetime. We are able to help you maintain the condition of your deck or fence through the routine cleaning we can offer so that you and your family can continue to enjoy those structures you rely on. Deck and fence cleaning are a snap when you choose iShine Pressure Washing LLC as your trusted pressure washing professional.
Deck Washing Professionals - Here To Help
A deck is a big investment in a property and may be one of the reasons you chose your house in the first place. As such, ensuring it looks great and lasts long is a priority of any homeowner with a deck. Keeping a deck in good condition is a lot of work on your own, though. Fortunately, you have found iShine Pressure Washing LLC, Orlando's deck and fence cleaning professionals.
Our team is experts at caring for wooden surfaces like decks and improving so many things with just one clean. If your deck is by a pool or other area that sees a lot of moisture, you may have noticed algae growing on your deck. This can be slippery and dangerous, so removing it is a must.
Additionally, keeping materials from outstaying their welcome on deck will ensure that they don't do damage over time, meaning you can enjoy your deck for much longer. Revamp the look and condition of your deck with iShine Pressure Washing LLC. We're also the group for concrete cleaning services to benefit the rest of your property,
A Local Favorite For Wood Restoration Service
Caring for wooden surfaces like decks and fences takes expertise that not many have. The team at iShine Pressure Washing LLC is trained in deck and fence cleaning, ensuring that you get the best clean you can find. Other companies like the finesse necessary for cleaning wooden surfaces, which may damage the wood during the cleaning process. iShine Pressure Washing LLC, however, can guarantee the same great results as all of our other services while never marring the wooden surfaces when we clean. This is why we are Orlando's trusted company for wood restoration services because our deck and fence cleaning will always outmatch what you can find elsewhere. Contact us today and we can begin your property's transformation.
---
Concrete Cleaning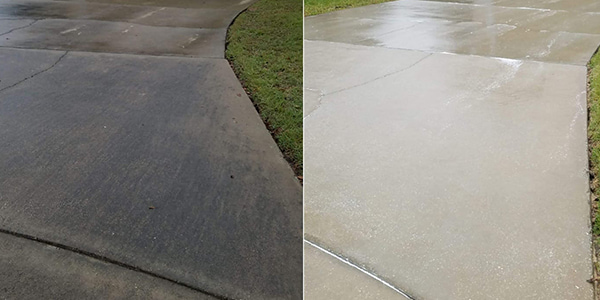 When the concrete surfaces of your Orlando home leave something to be desired, iShine Pressure Washing LLC is here with concrete cleaning to brighten and restore your sidewalks, pavers, and driveway. It's not a surprise that the first thing you envision when you think of pressure washing is concrete being cleaned. This is because of the wonderful results that are in store for you and your property when an expert team treats your concrete. iShine Pressure Washing LLC is that team for you. We're ready to transform your concrete surfaces into like-new facets of your property. For an even bigger transformation, consider house washing from iShine Pressure Washing LLC.
Paver Washing: Superior Care For Your Hardscaped Spaces
If you put a lot of effort into your property's landscaping, then it can be a major disappointment when it doesn't meet your expectations in every way. One way it may be lacking could be due to the visual condition of your pavers. Of course, pavers are meant to be used, but when it costs them their beauty, it can be easy to want to stay off. Have no fear, iShine Pressure Washing LLC can restore your pavers and have them looking like they we just installed with ease. Additionally, improving the visual condition through pressure washing isn't the end of the story. By removing the materials causing discoloration and dinginess on your pavers, you will be improving their lifespan, as these materials can break down the integrity of concrete over time.
Driveway & Sidewalk Cleaning To Best Maintain Your Property's Exteriors
The concrete surfaces around your home that, perhaps, see the most wear and tear are your sidewalks and driveway. Luckily for you, iShine Pressure Washing LLC is well-versed in caring for these surfaces.
You may not realize the effect that simple foot traffic has on the visual condition of your sidewalks. We know this because of the big reactions our customers have to see them cleaned. The gradual accumulation of materials that cause discoloration and staining may mean that you don't realize just how bad your sidewalks have gotten. With our expert sidewalk cleaning, we'll show you just how dirty they are, and you'll never want to go back.
Cars drag up a ton of things on your driveway, anything from dirt to oil stains. If the condition of your driveway doesn't excite you, then we're sure our concrete cleaning will. Our team can get up even the most stuck-on stains to reveal the beauty of your surface underneath. While your driveway performs an important function, that doesn't mean that it can't also be a lovely focal point for your property.
---
Pool Patio Cleaning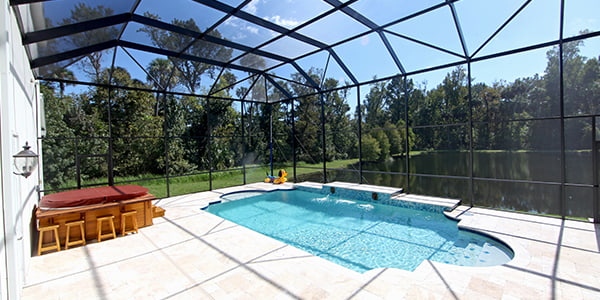 There's not much better than soaking in the Orlando sun poolside, except for maybe pool patio cleaning from iShine Pressure Washing LLC! Your pressure washing pros make it easy to enjoy the water stress-free because you'll know that your surrounding pool area is taken care of. Let us give you all of the benefits of a professional patio pool cleaning that you can rely on and results that you'll love.
Pool Screens & Cage Washing For Homes & Commercial Properties
A dirty screen around your pool can majorly detract from the visual appeal of your property. Even though screens protect your pool from unwanted debris, that doesn't mean you want it to look terrible while it does it. As the area surrounding your pool is very moist, it is common to see algae clinging to your screens. The excessive moisture also makes your screens a perfect breeding ground for potentially dangerous mold. During certain months, you may also find that pollen in the air collects on your screen, bringing unpleasant discoloration. Pressure washing is the most effective way to remove the eyesore that is this debris. Routine cleaning is the best way to protect the integrity of your screen while enjoying the way it looks.
Pool Surround Washing For Healthy Outdoor Spaces
Keeping the area around a pool is essential for several reasons. One reason is, of course, safety. While the usual water accumulates around a pool and can be safely maneuvered without slips, the growth of certain materials may make the outside of your pool very dangerous. Algae, a common and unwelcome visitor to places like pool patios, can be very slippery. Maintaining the safety of your pool is paramount and, luckily, simple with pool patio cleaning from iShine Pressure Washing LLC. We offer a plethora of concrete cleaning services for all your property's surfaces to keep you safe and happy all throughout the year.
Another reason routine pool patio cleaning is important is due to the difference it can make to the appearance of your swimming area. The cost of pool upkeep is a big investment that we know homeowners don't take lightly, which is why when your pool looks less than desirable, it can be a big disappointment. Pool patio cleaning will ensure that the surface surrounding your pool looks as nice as the day it was installed. Contact the team at iShine Pressure Washing LLC to get started on brightening your pool area and protecting your family today.
---
Gutter Cleaning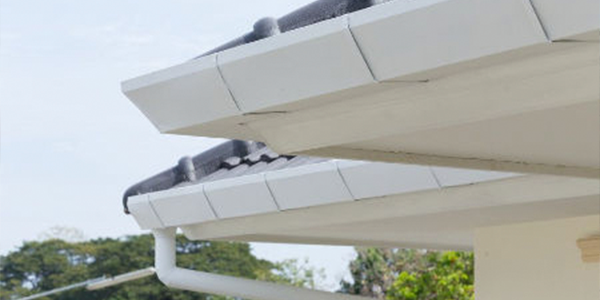 Let iShine Pressure Washing LLC take care of your Mascotte home by providing essential services like gutter cleaning. Separate from roof cleaning service but just as critical, cleaning gutters help protect your roof, siding, and foundation, and it improves the appearance.
There's no reason to attempt to clean out your own gutters anymore while standing on a slippery and rickety old ladder and trying to scoop out wet decaying leaves by hand. The risk of falling alone is reason enough to delegate the task to a trained professional.
We take safety precautions for our team members and to protect your home. All you see in the end are clean gutters, inside and out.
Gutter cleaning is a service you can get any time of the year, but once in the late fall and then again at the conclusion of spring is ideal. Stop missing out on essential cleaning for your gutters from dedicated industry experts.
Washing Out Gutters
iShine Pressure Washing LLC is the premier choice for pressure washing for Mascotte homes from top to bottom or from rooftop to sidewalks. Of course, this includes your gutters too! Our gutter cleaning is efficient and effective, so your gutters will look and function like new.
Even gutter systems with guards need cleaning, just maybe less frequently. We'll work with you to establish how often your gutters need cleaning and then provide our services accordingly.
Why do you need your gutters washed out so often? There are plenty of reasons why washing out gutters with careful pressure washing methods is necessary and effective:
Remove debris that's stuck and causing clogs
Eliminate pest nests
Reduce the likelihood of repair needs
Maximize the lifespan of your gutter
Protect your gutters, roof, siding, and foundation
Of course, our cleaning helps the outside sparkle and shine, so they don't become an unsightly problem. Take good care of your gutters by letting us do the dirty work.
---
Commercial Pressure Washing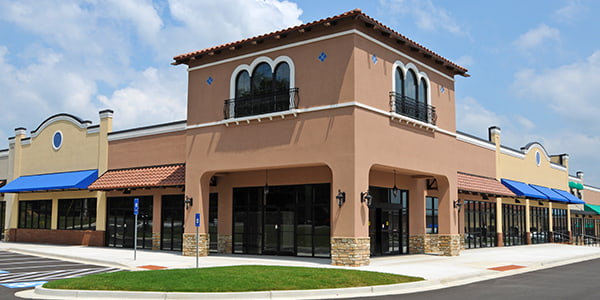 When you're in need of professional commercial power washing in the Orlando area, iShine Pressure Washing LLC has you covered. We have provided Orlando and its surrounding cities with high-quality power washing, superior customer service, and competitive pricing for years.
Our pros at iShine Pressure Washing LLC has what it takes to get your commercial property looking its best in no time. Take a look at just a few of the many benefits power washing can have for your business:
Will increase your property value
Will boost your curb appeal and overall exterior appearance
Will prevent future damage
Will protect the health of you, your employees, and your customers
Our expert crew at iShine Pressure Washing LLC has been thoroughly trained and is highly experienced. We know all the right techniques and applications to treat your commercial property with the care that it deserves. We pay heavy attention to detail so we can guarantee your satisfaction when we treat your business.
If you're ready to give your Orlando business a boost, give us a call for professional commercial power washing. We're ready to go for your next power washing project.
Exterior Surface Cleaning For Businesses
iShine Pressure Washing LLC offers superior power washing for Orlando and its surrounding cities. Pressure washing can easily improve your business. If you have old stains, paint, or harmful growth on your exterior surfaces, we can help. Our commercial power washing will easily remove stains and debris that detract from your business.
Not only will commercial power washing increase the appearance of your overall exterior, but it also increases the longevity and health of your exterior surfaces. Exterior surfaces that have been thoroughly cleaned will last longer and work more efficiently.
Commercial power washing is also beneficial in creating a safer environment for your employees and customers. If there are substances on your concreted surfaces like algae, mold, or mildew, they can create a slippery surface. Our expert crew can wash away these pesky substances and decrease the risk of injury.
Our Pressure Washing Services
Are you interested in hiring us for your Orlando property? While we do offer professional commercial power washing, we offer other services for residential properties as well.
Here are the other services we offer to Orlando and its surrounding cities:
Driveway Washing
House Washing
Roof Cleaning
Get your free quote started by calling 407-454-9191 or by completing our online request form. We're ready to go for your next power washing project!
---
Yes, we recommend cleaning your fence before painting or staining. If you were to paint or stain before cleaning, you would be trapping the dirt underneath, meaning the result of your treatment would not look as wonderful as you expected. Additionally, depending on how much debris is on the surface of your fence, the paint or stain may have difficulty sticking to the material, causing you to need to clean it after all. Thorough cleaning is the best way to prep your surface for any treatment.
There are many ways that cleaning your pool deck is a great way to improve the safety of your family and those that use your pool. One reason an unclean pool deck can be dangerous is due to what could be growing on it. Materials commonly found on decks are things like algae and mold, both of which absorb lots of water, making them slippery. Removing them is the best way to avoid a fall. Also, by maintaining a clean deck, you protect the integrity of your wood from rot, meaning you don't have to worry about your deck giving way under someone's feet.
No, while you may find dirt on your roof, the commonly found black streaks are generally caused by something else. Gloeocapsa magma is the name for the type of algae that grows on roofs in black or dark green streaks. When you notice these streaks, it is important to hire a professional pressure washing company to perform a roof cleaning. Keeping your roof free of this will help increase the longevity of your roof as well as improve the visual appeal of the affected areas.
Discoloration of concrete surfaces around a property can be very disappointing when you'd like to have the best-looking home possible. Algae and mold can grow on concrete, especially concrete frequently exposed to water. This can lead to staining and dark patches cropping up on walkways and driveways. These spots can really damage the appearance of your concrete surfaces, but luckily, pressure washing makes it an easy fix to restore your pathways and pavers to their former glory.
---
READY TO SCHEDULE QUALITY PRESSURE WASHING IN ORLANDO? BOOK ONLINE TODAY!